Programme Objectives
The Programme will enable students:
to think critically, and learn independently;
to gain solid knowledge in the concepts, theories and applications of English studies (literature and linguistics), supplemented with fundamental knowledge in business studies;
to face challenges using critical thinking, creativity, analytical skills and problem-solving abilities acquired from their training in language, linguistics and literature;
to use knowledge of language and literature to develop understanding of local and global issues, developments and cultures;
to communicate effectively in English and Chinese (Cantonese and Putonghua) in biliterate and trilingual environments, including academic and business-related contexts;
to put knowledge and theories of linguistics, literature and language studies into practice, including business-related purposes and contexts;
to develop and broaden their understanding and appreciation of the world and its diverse communities and cultures;
to work independently or in a team with effective social and interpersonal skills from the learning process.
Programme Structure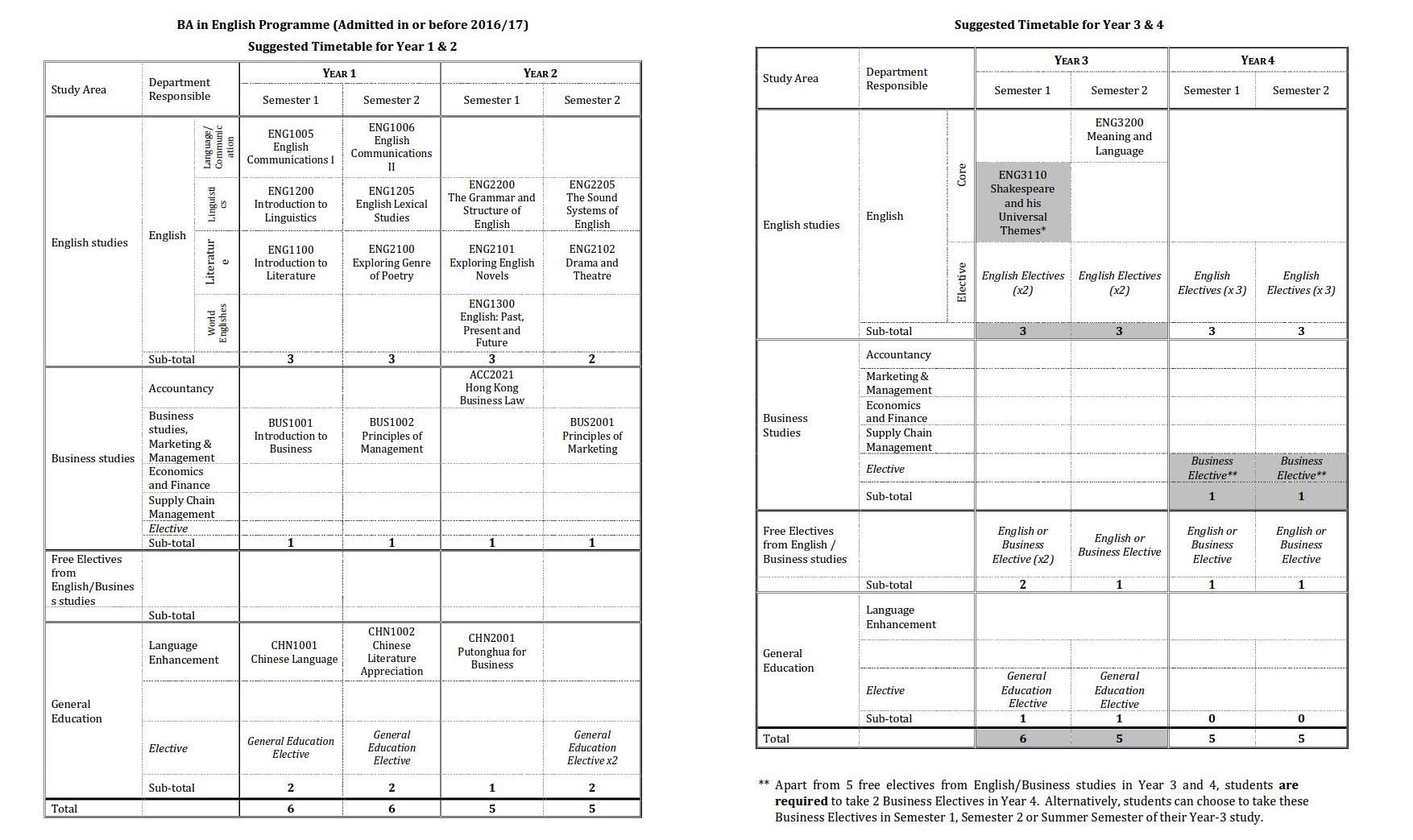 English Electives (offered in Semester 2, 2019/20)
ENG3114 Modernism
ENG3121 Women in Literature
ENG3225 Language and the Mind
ENG3226 Teaching English As A Second Language
ENG3326 Ethics, Popular Cultures and American Literature
ENG3327 English-Chinese Contrastive Analysis
ENG4235 Structure and Meaning
ENG4322 From Literary Studies to Cultural Studies
ENG4421 Senior Project (Literature)*
ENG4422 Senior Project (Linguistics)*
*For students enrolled in the module in Semester 1 only
Business Electives
Any modules with module code ACY, AMS, BUS, ECO, FIN, HRM, MGT, MSIM or SCM.
Free Electives from English/ Business Studies
1) English Elective Modules (Please refer to the above); OR
2) Business Elective Modules (Please refer to the above)
General Education Elective Modules
ASI1101 Japanese I
ASI1102 Japanese II
ASI1103 Japanese III
ASI1201 Korean I
ASI1202 Korean II
ASI1203 Korean III
CHI2009 Chinese Oral Communication
CHI2002 Advanced Putonghua for Practical Purposes
CHN2004 The Confucian Analects and Business Ethics
CHN2005 Chinese Characters, Relics and Culture
CHN2007 The Art of War and Modern Management
CHN2008 Introduction to Chinese Culture
CHN3001 Chinese for Business
CHN3006 Advanced Putonghua Oral Training
COM1101 Database Management System and Application
COM1002 Cyber Technologies and Society
COM1103 What makes a computer a computer
COM1101 Programming Methodology
COM1002 Programming and Data Structures
COM1103 Computer System
COM2001 Information Systems in Business
COM2002 E-Commerce
COM2003 Introduction to Financial Business
COM2004 Introduction to Information Technology
COM2005 Introduction to Computer Programming
COM2006 Database Management Systems
COM2101 Computer Network
COM2102 Discrete Mathematics and Algorithms
COM2201 Graphic and Digital Design
COM3101 Software Engineering
COM3201 Human-Computer Interaction
FLA1101 German I
FLA1102 German II
FLA1201 French I
FLA1202 French II
FLA1301 Spanish I
FLA1302 Spanish II
GEN1001 Critical Thinking
GEN1002 Public Policy and Administration in Hong Kong
GEN1003 East Asia Cultures – Comparison of Japanese and Korean Cultures
GEN1004 Individual and Society
GEN1006 Wellness in Contemporary Society
GEN1007 Psychology and Life
GEN1008 Creative Thinking
GEN1009 History of Modern China
GEN1010 History and Civilisation
GEN1011 Fundamentals of Political Science
GEN1012 Culture, Media and Society
GEN1013 Technology and Society
GEN1014 Introduction to Ethnomusicology Music and Culture
GEN1015 Film and Society
GEN1016 Hong Kong Cinema
GEN1017 Introduction to Cultural Studies
GEN1018 Government and Politics of China
GEN1019 Drama in Action
GEN2001 Hong Kong Society
GEN2002 Global Politics
GEN2003 Ethics
GEN2004 Business Ethics
GEN2005 Music Appreciation – from Classical to Pop
GEN2007 Cultural Tourism in Asia
GEN2008 Understanding Hong Kong Drama
GEN2009 Battles in a Contagious World Challenges of Global Public Health
GEN2010 Chinese Society: Changes and Transformation
GEN2011 Plants and Civilization
GEN2013 History for Today
GEN2014 History of Traditional Chinese Thought
GEN2015 Regional Security in Northeast Asia
GEN2016 Science and Better Life
GEN2018 Prominent Scientists and Their Great Discoveries
GEN2020 Art Appreciation
GEN2021 An Inquiry of the Big Questions
GEN2023 Religions and Human Spiritual Quests in the Contemporary World
GEN2024 Science and Pseudoscience
GEN2025 Understanding Emotions A Scientific Approach
GEN2027 Gender, Culture and Society
GEN2028 Stress Management for Health and Wellness
GEN2029 Managing Soccer Clubs in a Globalized World
GEN2030 Cognition in Everyday Life
GEN2031 Leadership and Innovation in Community Service
GEN2032 Environmental Conservation and Ecotourism
GEN3001 Life and Death
GEN3005 Urban development and evolution in Hong Kong
GEN3006 International Political Economy
GEN4001 Capstone Project on General Education
TRA1001 Principles of Translation
Degree Award Requirement
In order to be eligible for the award of the BA-ENG degree, students must have:
completed and been assessed on at least 129 credits, including all core modules;
obtained an overall GPA of 2.0 or above for all modules in which they were assessed;
obtained a Grade D or better on at least 120 credits;
passed the Information Technology Proficiency Test; and
fulfilled the requirements of Community Services (20 hours), Extra-curricular Activities (10 hours) and Physical Activities (10 hours), within the course of the Programme.
Additionally, within the BA in English Programme, in order to count a module towards the 23 modules required from the English Study Area of the Programme, a student must obtain at least a Grade C (meaning C+, C or C-). Should a student obtain lower than a Grade C in a core module, that module must be retaken until the student obtains a Grade C. Should a student obtain lower than a Grade C in an elective module, they may retake the module or substitute that module with another elective module with at least a Grade C.