Programme Objectives
The Programme will enable students:
to think critically, and learn independently;
to gain solid knowledge in the concepts, theories and applications of English studies (literature and linguistics), supplemented with fundamental knowledge in business studies;
to face challenges using critical thinking, creativity, analytical skills and problem-solving abilities acquired from their training in language, linguistics and literature;
to use knowledge of language and literature to develop understanding of local and global issues, developments and cultures;
to communicate effectively in English and Chinese (Cantonese and Putonghua) in biliterate and trilingual environments, including academic and business-related contexts;
to put knowledge and theories of linguistics, literature and language studies into practice, including business-related purposes and contexts;
to develop and broaden their understanding and appreciation of the world and its diverse communities and cultures;
to work independently or in a team with effective social and interpersonal skills from the learning process.
Programme Structure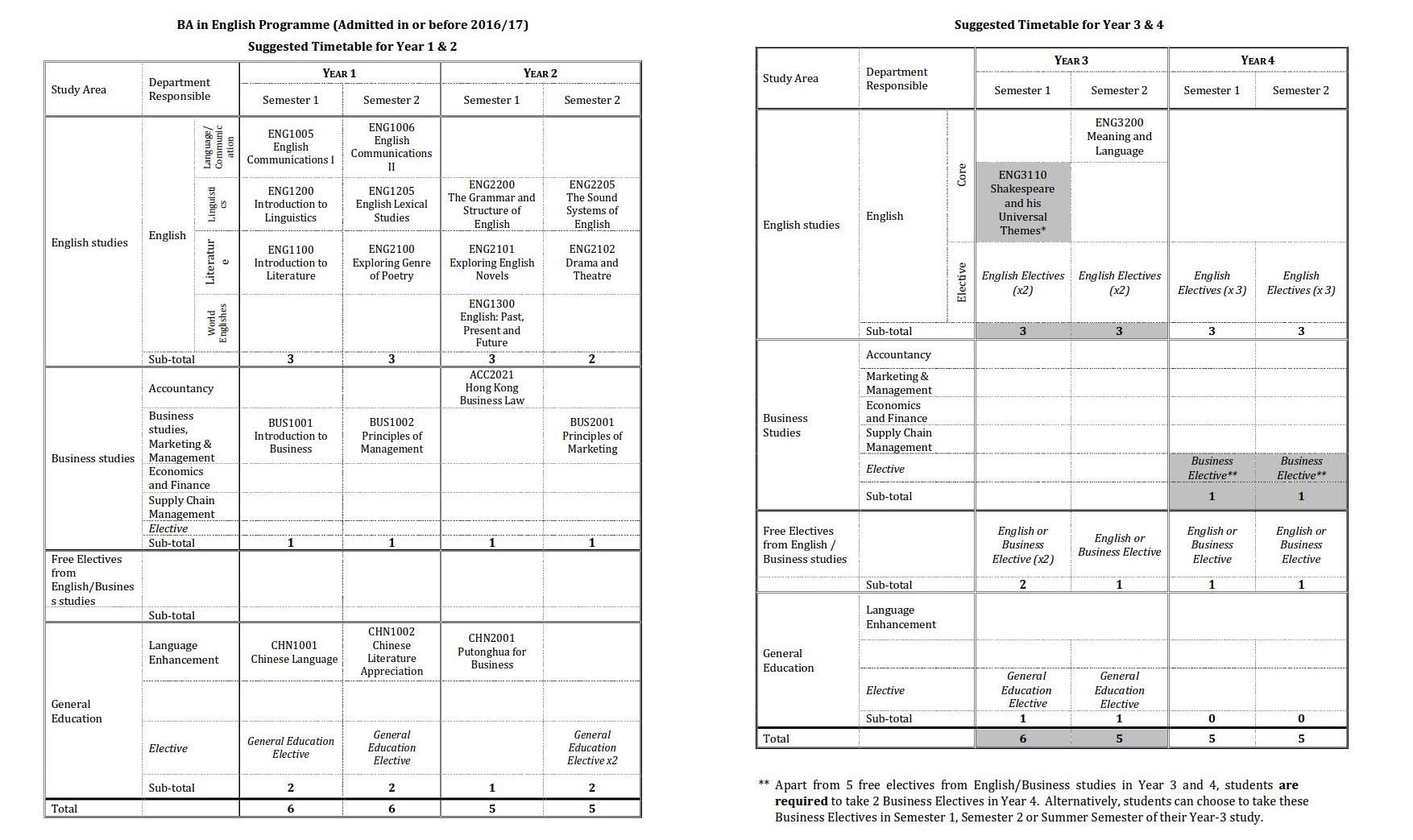 Degree Award Requirement
In order to be eligible for the award of the BA-ENG degree, students must have:
completed and been assessed on at least 129 credits, including all core modules;
obtained an overall GPA of 2.0 or above for all modules in which they were assessed;
obtained a Grade D or better on at least 120 credits;
passed the Information Technology Proficiency Test; and
fulfilled the requirements of Community Services (20 hours), Extra-curricular Activities (10 hours) and Physical Activities (10 hours), within the course of the Programme.
Additionally, within the BA in English Programme, in order to count a module towards the 23 modules required from the English Study Area of the Programme, a student must obtain at least a Grade C (meaning C+, C or C-).  Should a student obtain lower than a Grade C in a core module, that module must be retaken until the student obtains a Grade C. Should a student obtain lower than a Grade C in an elective module, they may retake the module or substitute that module with another elective module with at least a Grade C.