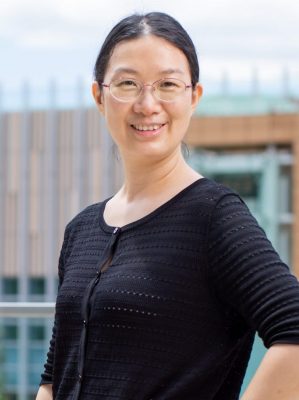 PhD (HKU)
MA (Fudan University)
BA (Fudan University)
Assistant Professor
Tel : (852) 3963 5590
Email : maggiema@hsu.edu.hk
Ma Jingjing is Assistant Professor at the Department of English, the Hang Seng University of Hong Kong. She received her PhD from the Division of English Language Education, Faculty of Education, University of Hong Kong. Her research interests include second language writing, second language acquisition and formative assessment.
Journal Articles
Ma, J., & Bui, G. (2022). Implementing continuous assessment in an academic English writing course: An exploratory study. Assessing Writing, 53, 100629. 
https://doi.org/10.1016/j.asw.2022.100629 [SSCI-Indexed]
Ma, J., & Bui, G. (to appear 2021). Chinese EFL teachers' conceptions of assessment: A mixed-methods study. Studies in Second Language Learning and Teaching, 11(3).
Ma, J., Wang, C., & Teng, M. F. (2021). Using Learning-Oriented Online Assessment to Foster Students' Feedback Literacy in L2 Writing During COVID-19 Pandemic: A Case of Misalignment Between Micro-and Macro-Contexts. The Asia-Pacific Education Researcher, 1-13.
Ma, J. J. (2018). Student perceptions of assessment-for-learning practices in an English for academic purposes course, English Teaching and Learning, 42 (2),155-183.
Ma, J. J. (2018). Usability of teacher written feedback: Exploring feedback practices and perceptions of teacher and students. Electronic Journal of Foreign Language Teaching, 15 (1), 23-38.
Ma, J. J. (2017). Using formative assessment to facilitate learner self-regulation: A case study of assessment practices and student perceptions in Hong Kong. Taiwan Journal of TESOL, 14 (1), 87-118.
Ma, J. J. (2012). EFL Students' decision-making and criteria use in peer review: Influence of teacher writing beliefs. English Teaching and Learning, 36(3), 87-132.
Ma. J. J. (2012). Student performance in peer review: The role of learner beliefs. Research Studies in Education, 10, 83-100.
Ma, Jingjing. (2010). Chinese EFL learners' decision-making while evaluating peers' texts. International Journal of English Studies, 10 (2), 99-120. 
Ma, Jingjing & Xiong, Xueliang (2004). On FCT-driven antecedent selection in multi-antecedent ontext, Foreign Languages and Their Teaching, 179 (2), 1-3.
Ma, Jingjing (2004). A pragmatic analysis of indirect anaphora with double candidate antecedents,  Journal of PLA University of Foreign Languages, 27 (3), 13-18.
Book Chapters
Ma, J. J. (2020) L2 students' engagement with written corrective feedback. In J. Liontas (Ed.), TESOL Encyclopedia Online Updates. John Wiley & Sons.
Ma, J. J. & Teng, F. (2020). Metacognitive knowledge development of low proficiency Hong Kong English as a Foreign Language university students in a process-oriented writing course: An action research study. In B. Reynolds & F. Teng (Eds.). Innovative approaches in teaching writing to Chinese speakers. Berlin, Boston: De Gruyter Mouton.
Ma, J. J. (2019). Hong Kong college students' perceptions of continuous assessment in the context of academic literacy instruction. In B. Reynolds & F. Teng (Eds.). English Literacy Instruction in Chinese Speaking Asia. Singapore: Palgrave MacMillan.
Projects
Competitive Research Funding for the Local Self-financing Degree Sector, Faculty Development Scheme. (Ref. UGC/FDS14/H08/14)—HKD562, 971 Exploring English teachers' assessment practices and student perceptions of them in Hong Kong's self-financing tertiary education context (Dec., 2014-Dec., 2016). Research Grant Council (RGC). http://www.ugc.edu.hk/eng/rgc/result/sf/fds1415.htm
Small Research Grant (Ref. SRGS-13-03)–HKD28,600 Exploring learning-oriented assessment in Hong Kong's self-financing tertiary education context (Feb., 2014-Jan., 2015). Federation for Self-financing Tertiary Education (FSTE). http://www.fste.edu.hk/projects.aspx?pageid=07