i) Career Prospects
Graduates with knowledge of English and Business would be extremely well-placed to take advantage of the huge increases in demand for graduates in business and related fields. Graduates of the BA in English Programme have a wide range of career options including:
Communications:
Public Relations
Corporate Communications
Media Relations
Project Management
Copywriting
Patent Writing
Reporting
Editing and Publishing
Marketing, Finance and Banking:
Management
Advertising
Customer Service
Marketing
Market Research
Others:
Civil Service
Language and Cultural Consultancy
Education
ii) Education Pathways
The Programme provides academic and professional training for students to master all areas of English knowledge. Upon graduation, students are able to pursue further studies in Hong Kong or abroad, such as:
Master of Arts in Applied Linguistics
Master of Arts in English Studies
Master of Arts in Language Studies
Master of Arts in Literary and Comparative Studies
Master of Philosophy in English (Applied English Linguistics)
Master of Philosophy in English (Literary Studies)
Master of Philosophy in Sociolinguistics
Master of Education
Postgraduate Diploma in Education
Employment Sector of Full-time employed Graduates
Over 90% of full-time employed graduates entered the Commerce & Industry sector.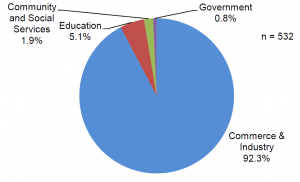 22.7% of graduates went into the Accounting, Auditing and Business Services and Banking, Finance and Insurance sectors correspondingly. Together with Communication, Marketing and Media sector, these three sectors employed over half of the total full-time employed graduates.
Figure 7: Factors Contributing to the Success in Job Hunting as Perceived by Graduates (6)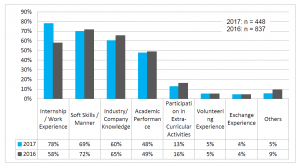 (6) Respondents were invited to indicate as many as three factors and thus the total sum of percentage was over 100%.