Attainment of Professional Recognitions
Career
Graduates with knowledge of English and Business would be well-placed to take advantage of the huge increases in demand for graduates in business and various fields. The graduate surveys in 2016-2020 shows a wide range of employment and further study options: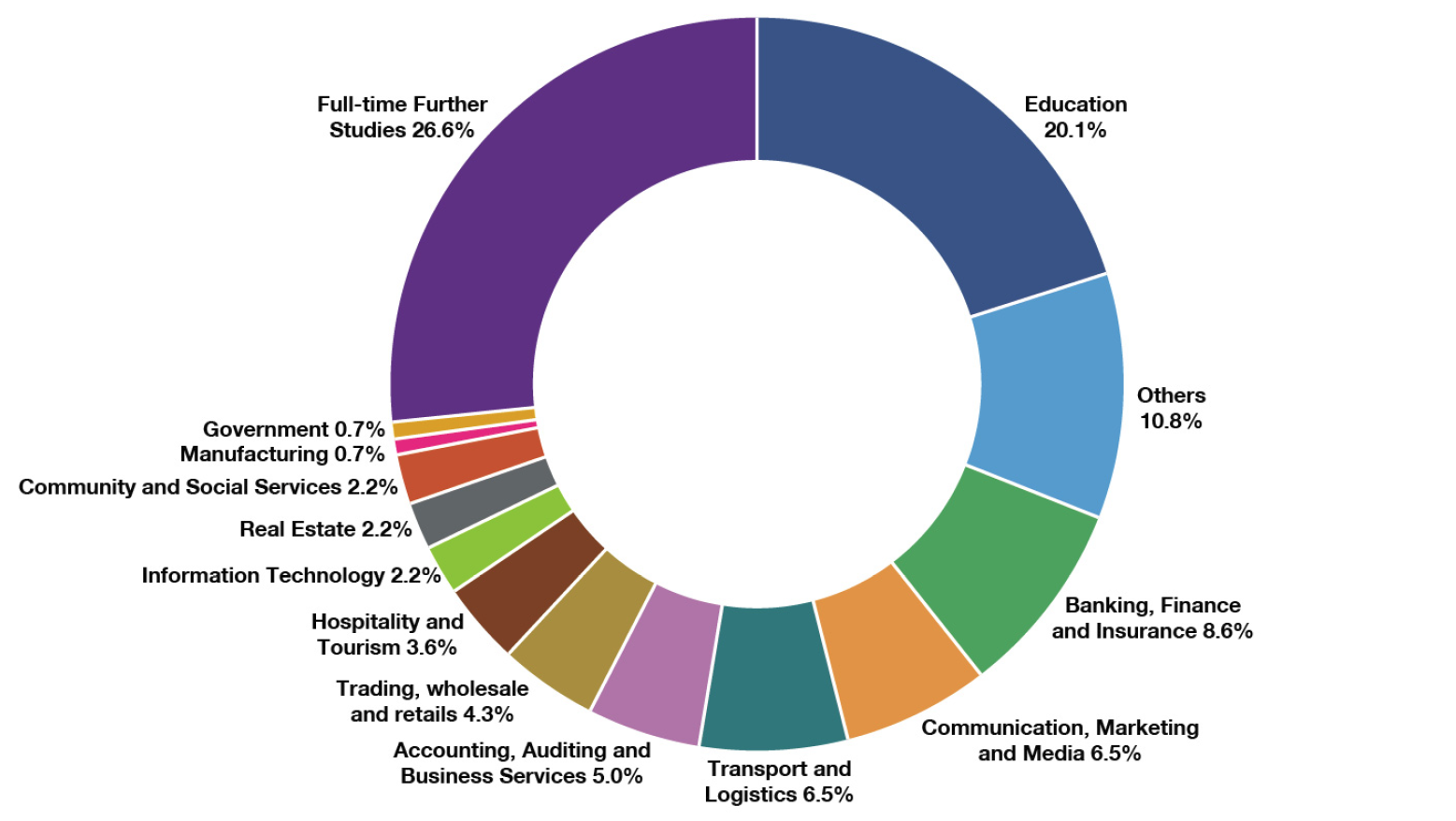 Examples of employers: HSBC, Morgan Stanley, Universities & Schools, HK Government, 9GAG, Jardine Aviation Services, Oxford University Press, Fox Network Group
Attainment of Professional Recognitions
The BA in English Programme obtained professional recognition from the Education Bureau (EDB) in the following areas:
Recognised English language major degree programmes of Standing Committee on Language Education and Research (SCOLAR);
Programmes Accepted for Grants under the Professional Development Incentive Grant Scheme for Language Teachers;
Accepted as an English language major degree for meeting the Language Proficiency Requirement (LPR)
Graduates will be granted full exemption from LPR and deemed to have reached Level 3 proficiency in all papers in the LPR if they possess both a relevant degree and relevant teacher training (upon completion of Postgraduate Diploma in Education (PGDE)). Graduates could apply for exemption from Language Proficiency Assessment for Teachers (LPAT) accordingly.
Internship
The University is committed to providing effective internships for students. Students have been joining the internship programme of various positions with well-known companies to gain experience to bridge the gap between the classroom and the real world.

[The student] is an efficient person and is willing to communicate with colleague. He also shows caring towards the students joining the musical production.

[The student] has helped us to prepare and proofread teaching materials. He is a serious worker and is careful in completing tasks assigned to him.