Information on this page is only applicable to students admitted on or before 2020/21 (Year-1 entry); 2021/22 (Year-2 entry); or 2022/23 (Year-3 entry).
The Department of English offers a Bachelor of Arts (Honours) in English Programme which is designed to help students build a sound knowledge base in English literature and linguistics as well as develop strong language and cultural awareness essential for an increasingly globalised world and economy. The Programme covers a rich and diverse range of topics aiming to broaden students' horizons intellectually and personally. The integration of Business Studies modules in the curriculum also makes it unique with both academic and practical relevance.
This is a four-year degree programme and there are two semesters of 15 weeks per year. Each module consists of three credits, with every credit comprising a minimum of 15 contact hours. Students are required to study at least 43 modules of 129 credits over 4 years.
There are four Study Areas – English Studies, Business Studies, Free Electives and Common Core Modules.
Study Plan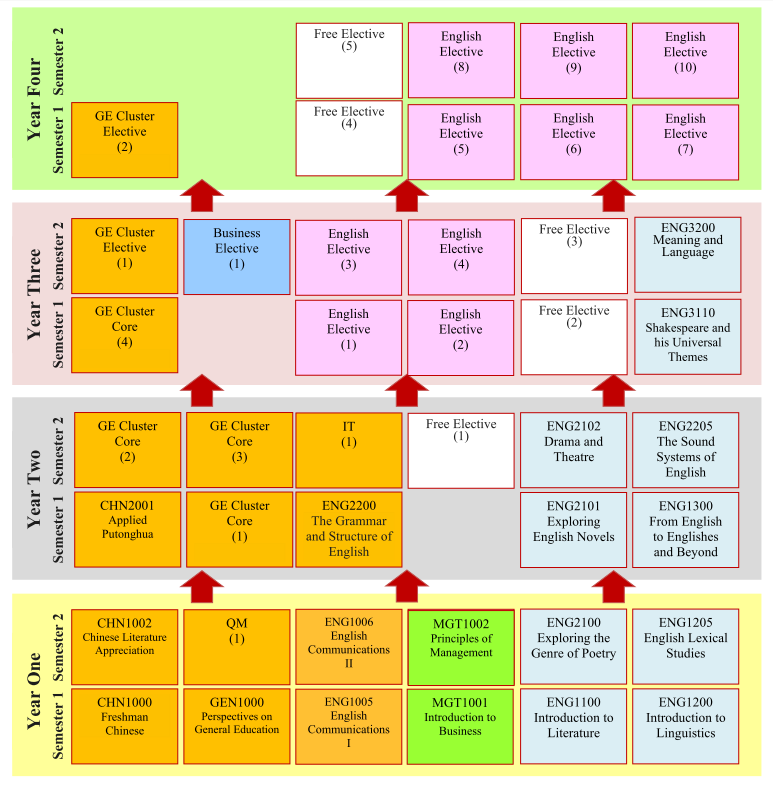 Degree Award Requirement
In order to be eligible for the award of the BA-ENG degree, students must have:
completed and been assessed on at least 129 credits (43 modules);
obtained an overall GPA of 2.0 or above for all modules in which they were assessed;
obtained a Grade D or better on at least 120 credits (40 modules);
obtained a Grade D or better in all core modules;
fulfilled the language competency exit requirement, i.e. 6.5 or above in IELTS**, or equivalent, and Grade 3B (三級乙等) or above in Putonghua Proficiency Test; Students failing to pass these tests are required to take the relevant English or Putonghua modules in lieu of the tests.
passed the Information Technology Proficiency Test; and
(from 2019 cohort) fulfilled the requirements of 12 iGPS Units and College Assembly.
(on or before 2018 cohort) fulfilled the requirements of Community Services (20 hours), Extra-curricular Activities (10 hours) and Physical Activities (10 hours), within the course of the Programme.
** This applies to students graduating after 2020/21. Students graduating in or before 2020/21 are required to achieve level 6.0 or above in IELTS.
---
QF Level: 5
QR Registration No.: 18/000835/L5
Registration Validity Period: 08/11/2018 To 14/03/2024
Primary Area of Study / Training: A08 Languages and Related Studies
Other Area of Study / Training: A03 Business and Management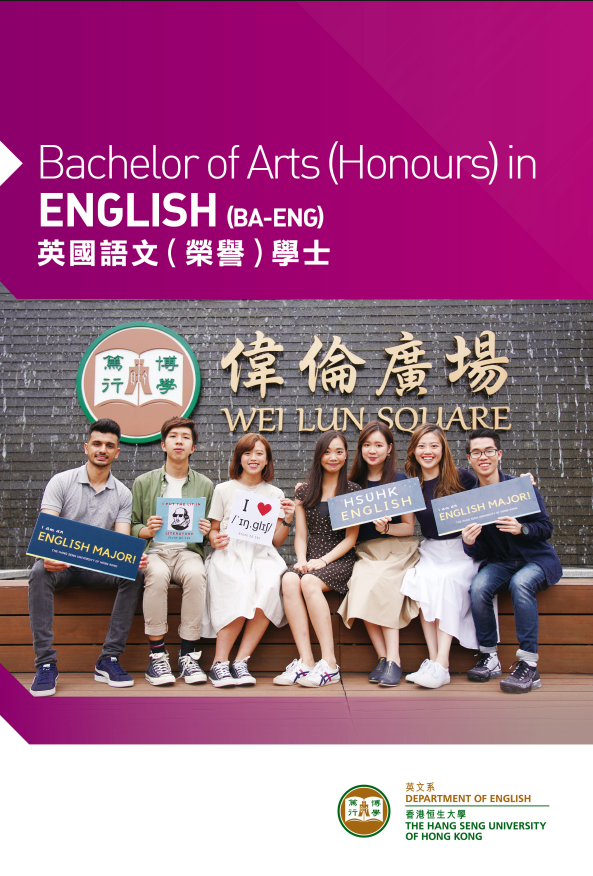 Enquiries
Email:
eng@hsu.edu.hk