24 March 2014 
The Department of English invited Louise Ho, Hong Kong's most recognised contemporary poet, as the speaker of the talk "English? What's that?" on 24 March 2014.
The talk was kicked off with a brief history of the English Language, introducing students to the characteristics of Anglo-Saxon, Middle English and modern English and how English evolved over the years.  Our speaker then moved on to sharing with students some insights and methods to study English Literature, such as encouraging students to appreciate the literary style of writing and pay special attention to the sound and metres of the poem. 
Louise Ho and the students also engaged in a lively discussion on William Carlos William's "This is just to say" and John Keats's "Ode on a Grecian Urn". The talk ended with a Question-and-Answer session and the poet's reading of her poem "Remembering 4th June, 1989".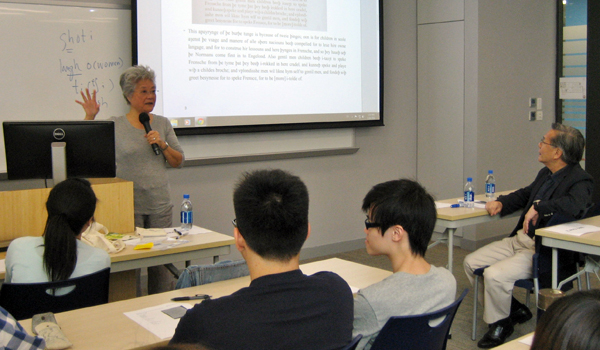 Louise Ho illustrated the difference in words between the Middle English and modern English
Question-and-Answer session with peers and students
As a token of appreciation, Prof Thomas Luk, Chairman of English Department and Dean of School of Humanities, presented a souvenir to Louise Ho.