12 January 2017
Between 3 and 12 January  2017, the Tin Ka Ping Arts Ambassadors visited Dabu County, Mei zhou, China and Singapore in order to explore the glocalisation of Hakka culture.  This second cohort of TKP Arts Ambassadors comprises 15 students from different disciplines who have excelled in the Department of English "Glocality" & Cultural Literacy Project events. Most of them are the winners of the "Glocal" English Speech Festival and "Glocal"English Drama Competition held in September 2016, whereas two of the ambassadors are serving on the English "Glo-Co" Radio Team.
The Ambassadors first examined the traditional local Hakka culture in Meizhou China, and then explored how Hakka culture has been assimilated into and is currently thriving in Singapore. Aside from visiting key cultural and architectural sights such as Calyx House and Taian Building in Meizhou, the Ambassadors also acquired deep understanding of Hakka culture from Prof Xiao Wenping, the Associate Dean of Jiaying Hakka Research Institute. In addition, they experienced cultural exchange with senior secondary students of Dabu Tin Ka Ping Experimental High School. Our students not only used these opportunities to promote the richness of Hong Kong culture, but also taught the Dabu secondary school students how to present Hakka culture inEnglish. In Singapore, the Ambassadors not only visited a tulou replica commissioned by the Hakka Association, the local Hakka Association Ying Fo Fui Kun,and the China Town to understand the atmosphere of the Chinese culture,particularly Hakka culture, in Singapore, but also enjoyed dinner with local inhabitants to better understand Singaporean English and culture.
After the trip, the Tin Ka Ping Arts Ambassadors will write a reflection and also conduct workshops during the upcoming Intercultural Summer English Camp to promote "glocality" and cultural literacy to HSMC students and the secondary community.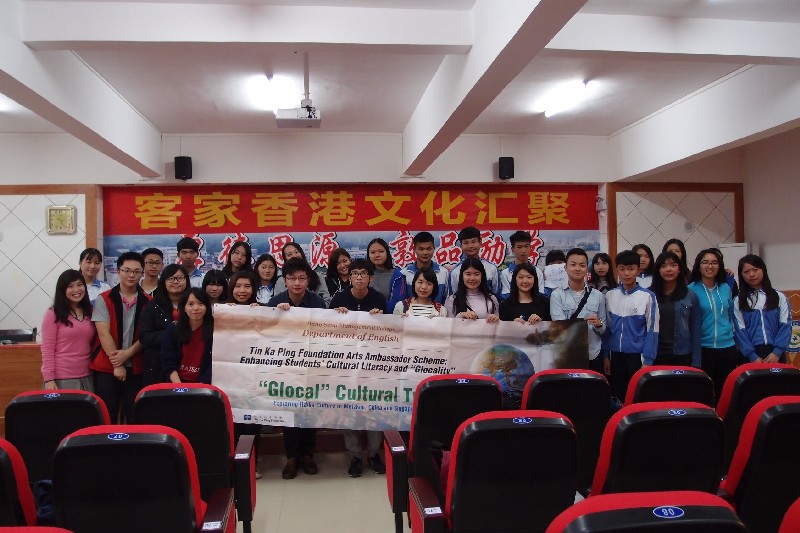 Tin Ka Ping Arts Ambassadors experience cultural exchange with students in Tin Ka Ping Experimental High School in Dabu County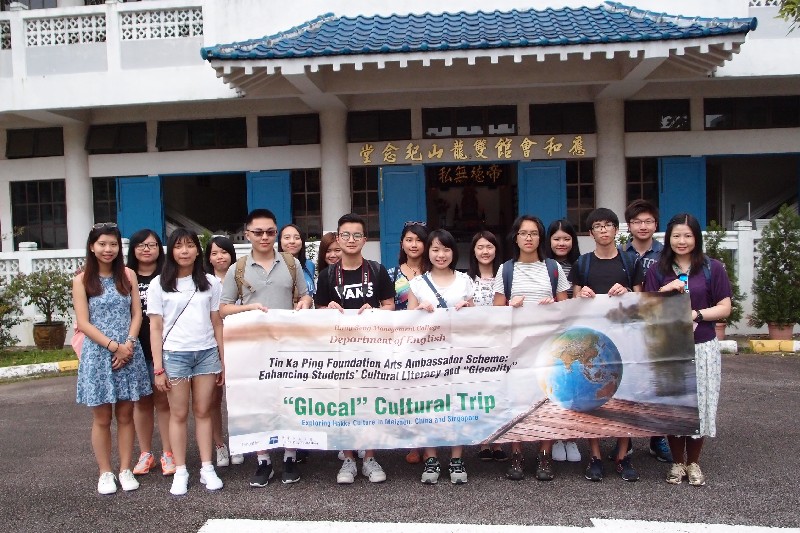 Tin Ka Ping Arts Ambassadors visit Hakka Association Ying Fo Fui Kun in Singapore